Vodafone
Vodafone Ringback tone app that plays callers their favorite songs.
Surprise callers by playing their favorite tunes or a personalized message — ringback tone technology for Android phones.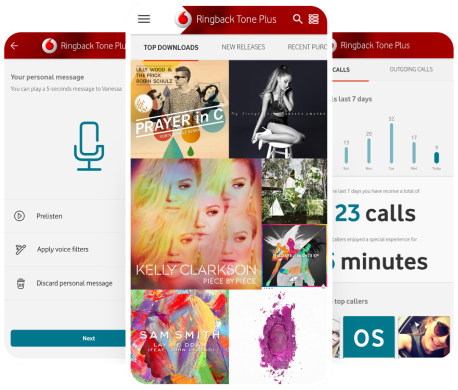 Vodafone Ringback tone is an Android app that can surprise users callers by playing them their favorite song. See how it works.
usability research
UX and UI design
web development
About the client
Vodafone is one of the largest telecommunications companies providing a wide range of services to both consumer and enterprise customers. They offer Mobile, Fixed, and TV to their consumer customers and are an industry leader in IoT, delivering cloud, security, and carrier services to enterprise customers.
They differentiate themselves from the competitors through continued investments in network infrastructure on a global scale and excellent customer experience.
30+
years present on the telecom market
30
countries where Vodafone owns and operates networks
450,000,000
customers around the world
50
countries where Vodafone has partner networks
About the project
The project goal was to introduce Ringback tone technology to the end-users of the Vodafone services. The only considered platform at that time was the Android application, so that is what we focused on.
The app itself had two main functionalities, users could buy and set their chosen song as the dedicated Ringback tone, or they could simply record a message and surprise their callers that way. Or both. Find out more in the full case below.
Results
We always strive for numbers that can confirm our work, metrics never lie.
Services utilized
Project strategy
client workshop
research
defining MVP
feature set
UX & UI design
information architecture
user personas
user experience
prototyping
UI design
Like what you see here?
We should get in touch