Business
How to select a UX design agency—a complete guide for buyers
Selecting a good UX and UI design agency comes with challenges. Read our complete guide for buyers and you'll know how to select the best UX agency for your next project.

If you are reading this post, the chances are that you are looking for ideas and tips on how to select a good UX and UI design agency to help you with your product, service, or busines in general. This post is here to help you with the process of choosing a UX design company.
In this post, we are sharing our experiences, valuable tips, and ideas, as well as a checklist that will help you evaluate UX and UI design agencies. We will assume that you are already familiar with the terms UX design and UI design.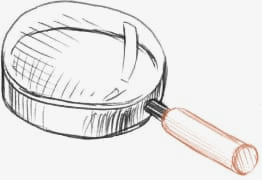 Understanding you and your business—crucial when you are selecting a good UX design agency
Good UX firms will want to learn more about you and your business. What led you to this phase? What are your expectations from your company, product, or service? Can you tell us your ideal workflow and process when working with external firms and agencies?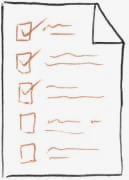 They should ask you some of those questions.
Evaluate them by going beyond the typical information they might find out about you from your website. Ask questions about your industry and general trends. The best approach here is to have a mindset that you are not looking for a UX design firm to outsource your work.
You are looking for trusted, long-term, and valued partners and consultants. Not just someone who will fill in the blanks and work only based on the specs you provide (if you have them at this phase).
In any case, be sure that they show genuine interest in your work and projects. If they do so, they will ask you numerous questions, share their previous experiences, and sound enthusiastic about the possibility of working with you. Even if you communicate via email at the start, you can see if they are eager and excited about your project and show curiosity by asking meaningful questions.
You are looking for trusted, long-term, and valued partners and consultants. Not just someone who will fill in the blanks and work only based on the specs you provide—if you have them at this phase.
Portfolio and references or testimonials
Seeing their portfolios, references, customer testimonials, or case studies on their websites are excellent positions for evaluating UX design firms.
Their website should have a separate area where they are showcasing their work. For example, it might be called Portfolio, Work, Our projects, or something along those lines.
Regardless of the name, they should show various projects, styles, and approaches and demonstrate an in-depth understanding of the process.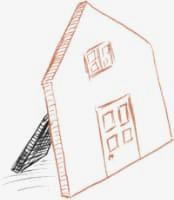 Don't be swayed away by shiny visuals and fake interfaces. You are looking for a UX and UI design agency to help you create or improve a new product, service, app, or website. You are not looking just to make superficial changes and eye candies.
The best way to see that is to check if they offer a detailed explanation of why they made specific design or development choices and approaches. Sometimes they will be able to share relevant metrics and key performance indicators. For example, by how much they have increased sales or the number of page views or conversions.
Reach out to their clients
Feedback and client reviews are excellent evaluation points. Ask the agency to provide you with the contact information from your previous clients. If the evaluated agency is not prohibited from doing so by an NDA, they might help you out and share the client's contact information. Even if you don't intend to call their previous clients, you will see how they react to such requests.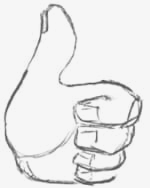 You can also take a look at third-party review services like Clutch. However, exercise caution when doing so. Agencies can pump those reviews by asking clients to leave excellent reviews and then provide them with discounted rates for their services.
Do not engage in such complications. It is better to have no profile on third-party sites than to have an incorrect or fabricated one.
Nothing can replace your judgment and experience in these matters. Try and evaluate agency with the holistic approach in your mind – context, as always, is the king. And if you want them to explain why they might have poorer reviews than some of their competitors, ask them. Sometimes you can learn more from those experiences than from reading all 5/5 reviews.
Services offered and team composition

This is a tricky one. You can find good UX and UI design services even from smaller boutique agencies or micro agencies with 1 or 2 persons. Those tend to be highly specialized and more pricey. They might also suffer from availability and bandwidth challenges.
On the other hand, gigantic agencies with dozens or hundreds of employees offering dozens of services might be too generic and could treat you as "yet another customer." However, they can also provide more bandwidth and a broader service offering with a more predictable process and outcomes.
The sweet spot?
However, the sweet spot is small and medium-size UX and UI design agencies. Although, naturally, you will want to make sure they offer UX design and UI design services, be sure to check if they have frontend and backend developers. Although it might not seem relevant or obvious, having developers in the same team as designers typically means that both groups benefit tremendously from each other's experience.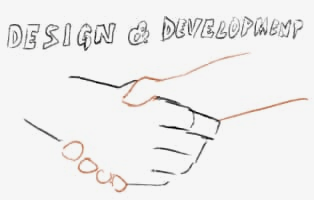 UX and UI designers working closely with developers will know a lot about possible technological limitations or challenges. On the other hand, developers will have a higher sensibility and sophistication when it comes to user experience and user interface design.
Working with teams with varied expertise and skills, even if you are not hiring them for all services they offer, will benefit you greatly.
Ask potential UX and UI design agencies about the quality assurance process. Be inquisitive – let them know that you are looking for a well-rounded service offering that, and you need to understand how they are triaging bugs in the design and development process. Do they have a formal system of documenting them? Again, this will give you a more comprehensive understanding of their business and its capabilities.
Process and flexibility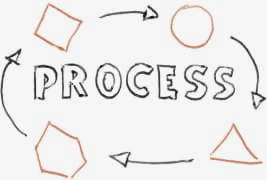 Closely related to the range of services they might be offering is the question of process. This is where countless UX firms fail. Focusing on great user experiences and user interfaces does not mean that you don't follow a process. The process is not a limitation; it's a support system designed to ensure predictable success or, at least, minimize chances for unpleasant outcomes.
You can't ask too much about the process. However, if the agency is hesitant or says things like "we don't follow a specific process, we will adjust to you," – consider that a red flag!
Good questions to ask can be:
How do you start your projects?
Do you run exploratory or discovery workshops?
How much involvement will you expect from me, and when?
What are the deliverables of each project phase?
Does your process allow for revisions, changes, and amendments? How do you treat those?
Process and flexibility
It is a good idea to check their website for depictions of the process. For example, they might have an additional blog post explaining the process in detail, or they might have it on their website close to the description of their services. Avoid agencies with overly simplistic diagrams showing things like START -> END and things that look more like a marketing pitch than an actual battle-proven process.
Lastly, see how flexible they are. Although having processes is essential and crucial, having a certain degree of flexibility is also astonishingly significant. Things can (and will change) during the project life. How does the agency react to those changes?
Are they mitigating those risks while still allowing for enough flexibility? Excellent agencies will have solid processes in place, and those same processes providing the structure will also offer flexibility. Ask them about that, and you will gain valuable insights.
Communication and project management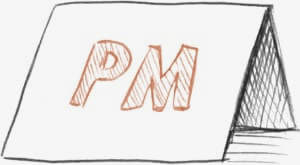 Closely related to the UX and UI design process are topics of communication and project management.
Look for an agency with a dedicated project manager on its team. This project manager will be your first go-to person and someone who will reach out to you. They will ensure that the project progresses well. Excellent and proactive PMs will propose you have weekly bi-weekly or, in some circumstances, even daily calls and meetings.
Working with a UX design agency will likely mean that they are not at your premises. They might be in different cities, states, or continents. Excellent UX design agencies will describe how they manage those kinds of projects. Furthermore, they will emphasize the role of communicating often and meaningfully in remote environments.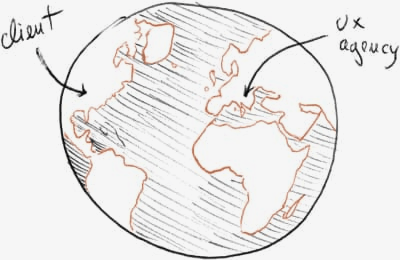 With the COVID-19 pandemic and more and more employees working from their homes, the ability to properly communicate and manage projects and expectations remotely is crucial. So make sure you ask about those processes and communication approaches.
Soft skills
Sometimes it is overlooked, and yet, it can mean a world of difference. First, try to evaluate if the agency is investing in their team and emphasizing the role of soft skills.
You will not be working with robots and perfectly predictable outcomes. You are human, and the people in the agency are human. Being mindful of soft skills like time management, communication, and assertiveness can mean a difference between a successful and unsuccessful project.
You can have world-class experts on both ends of the project. However, if they can't communicate, manage and use their soft skills, the project will likely fail.
UX design agency knowledge and experience
UX design agency knowledge and experience are those elements that you don't want, nor do you need to compromise on. Depending on your project type, you will search for an agency with knowledge and experience to provide you with a level of confidence that they will properly handle your project.
There are highly specialized UX and UI agencies only doing UX and UI work without any additional services. Some are even more specialized and provide UX and UI services just for the single (fintech, telco, healthcare…) industry.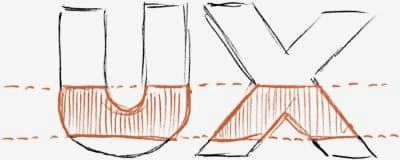 However, being too specialized can have its drawbacks. The limited set of industry experience and the breadth of expertise can affect project quality.
Try to look for agencies giving a good balance of breadth across several industries. But, beware of those with 15 projects, and every single one is for another sector. Some level of specialization is good.
Up-to-date with industry developments and practices
One of the critical elements that separate good UX and UI agencies from excellent ones is that the later ones will incorporate insights and skills from related industries. For example, while creating an excellent-looking UI is something that most good UX and UI agencies will do, only a few will check their solutions' feasibility with developers. An even smaller number of them will consider compliance with WCAG or properly name assets and have a meaningful structure that will work well for your SEO efforts.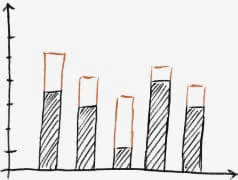 Ask them about how they measure performances, ask about Core Web Vitals, and ensure that their work will make it easier for developers to implement and build quality solutions. Ask about their typical project timelines and the setup of design projects. It also makes sense to check their experience with user research. Remember, user experience design is more than just visual design or wireframes and prototypes.
Also, don't hesitate to ask them about their views on participatory design or how they approach building user experiences and interfaces for people with different skill levels (beginners, intermediates, and experts).
Culture and values
Finding a good client-agency fit is as important as finding a good product-market fit. Both are essential for success.
Earlier, we said that you are working with humans. We also mentioned that you should be looking for valued and trusted (potentially long-term) partners – not just outsourcing firms.
To make sure this relationship will work, ask them about their culture and values. What are they standing for, and what is valued in their eyes? Then, go further and ask them about the team and company organization – are they project-driven or have some other approaches?
You will come with a particular set of your own personal and business values. Try and see if you are compatible.
Some agencies will not work with clients from specific industries based on their set of beliefs. Some clients will prefer to work with agencies that are vocal about political issues. In any of these situations, you need to try and understand the company culture.
Here's a pro-tip. Try and look at the agency's Careers or Hiring pages. See how they are treating their employees and what do they offer.
If a company values its employees, they will be happier, more motivated, and engaged. And all those values will reflect in your relationship and success with them.
Who's the face of the company?
You started initial talks with the company. Sent them an email or called their number.
Who replied to you? Was it someone from the sales? Or you got someone senior from the design or executive team?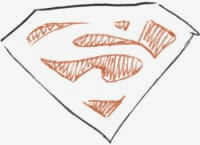 Smaller and mid-size agencies might have their CEOs or other senior partners answering your calls and emails. That's an excellent sign and means that they care even on those higher organization levels. Later in the project, you will likely deal with the project manager, designers, and developers. However, take it as a good sign if someone from the senior or executive team answers your email.
Pricing, rates, and availability of selected UX design agency
Commonly, agencies will offer two main types of billing and pricing. They are the fixed price and hourly (time and materials) based rates.
If your relationship progresses well, it will make sense to consider having your UX design agency on a retainer.
Each of these methods has its pros and cons. In the end, it will all depend on your agreement with the agency, your budget, and their rates.
Some agencies will have different rates for senior people and others for mid-level or juniors. Be sure to understand what's the breakdown of those hours. To simplify things, agencies might also offer a blended rate – something that likely will give you the easiest way to forecast your costs.
Be sure that the agency is tracking actual hours used. Also, ensure that they can provide you with the log of those hours if you need them.
Having all those hours listed might not be as relevant for fixed-price projects, but it is handy for hourly-based projects.
However, even before that, you can understand the agency's business approach and planning and pricing policies from the project offer or breakdown they send to you.
RFPs and RFQs
Say that you want a new website built, and you provide the UX design agency with a UX brief. If you receive a quote with a single line item "UX and UI design services" for an X amount of dollars (euros, anything really) – you should ask for a detailed breakdown.
That way, you will see how a systematic and detailed approach was taken when coming with an estimate. Later on, having single-line quotes is fine when you have already built a long-term and mutually trustworthy relationship. But for anything more complex or first-time projects, ask to have a more detailed breakdown.
If you are sending them an RFP or RFQ (request for proposal or quote), those tend to be more detailed. In that case, you can expect a significantly higher level of detail from the agency in their responses.
Pricing models
The general rule here is to see how flexible the agency is in offering different price models. For example, some agencies work only on hourly rates while others work just with fixed-fee projects. Of course, the level of transparency in both the quotes and later on invoices (availability of timesheets and time logs) is crucial. It will likely reflect the business values of the agency you are evaluating and offer you additional insight.
The actual hourly or project rates are deliberately left out of this article. They depend on the project complexity, skills required, the experience of the agency, and the region they are operating in. Again, the rule of thumb here is not to look at the hourly rate in isolation but instead understand the value from the individual rate.
Say, a senior UX designer can command a rate of $120 and more, but they will likely complete their tasks faster and with more quality than junior, who might be costing you $40 per hour.
Different rates, different geographies
Rates are highly dependant on the geographies where your agency is from. For example, agencies from India, the Philippines, and Indonesia will have significantly cheaper rates than US and Western Europe agencies. That reflects lower living standards and wages and lower worker's compensation and levels of social protection.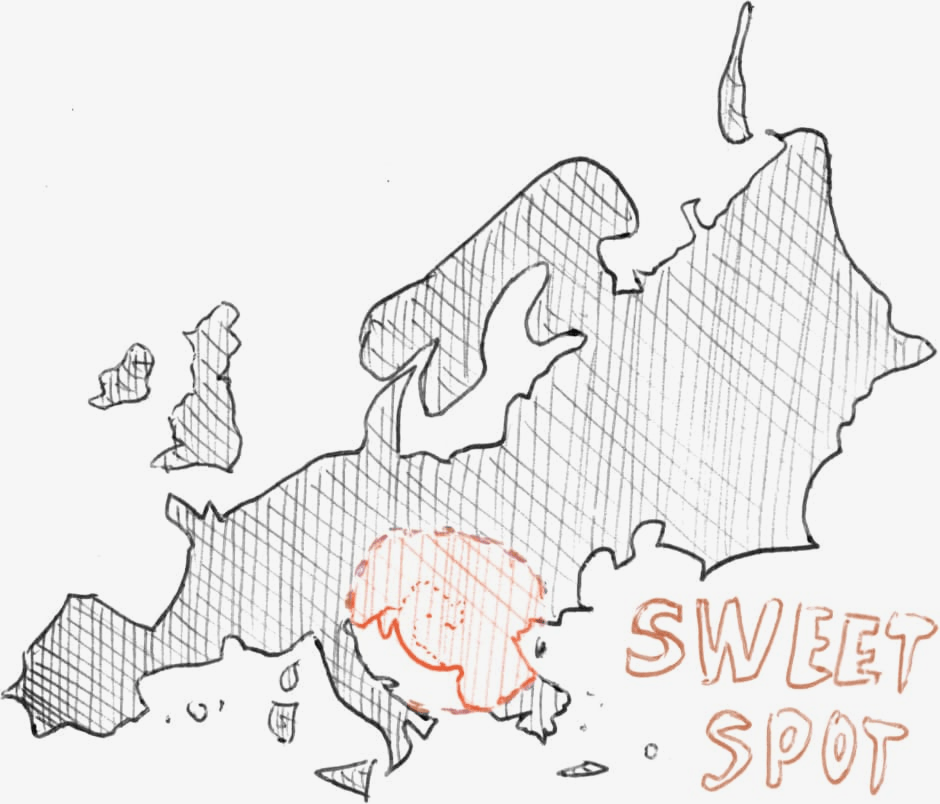 The sweet spot between affordable rates and highly qualified agencies is found in Central and Eastern Europe. From Croatia in the west to Ukraine in the east, talented designers and developers deliver excellent results. They offer the best value for the money with good English speaking skills, excellent work ethics, high education levels, and similar or identical culture and values.
Legal status
Depending on your business status and expectations, you might want to consider the agency's legal status you are hiring.
Some of them can be limited liability companies or corporations. Others can be sole proprietorships or partnerships. Some, on the other hand, can be single or several freelancers working together.
If you need some insurances or more advanced and sophisticated business arrangements, working with more formally organized businesses can be helpful.
On the other hand, if you are looking for a simple, uncomplicated relationship, smaller agencies, sole proprietorships, or freelancers can be effective and good choices.
Regardless of their legal status, check their standing, their ability to issue you a proper invoice or a purchase order, and to be compliant with any requests you might have.
What makes the difference between good and excellent UX and UI design agency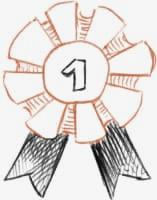 Excellent UX and UI design agencies will not be firms to outsource your project to and expect them to build to the spec. Instead, they will provide additional value as a part of their process. They will ask questions, and they will propose solutions even if you didn't consider them. You are looking for experts who understand you and your project – and that takes a curious mind and equally curious agency.
Outstanding and terrific UX design agencies
When discussing your business and project, truly outstanding agencies will ask about your long-term and short-term goals. They might ask about the processes and approaches you maybe already took. They will want to know if you have any additional insights, analytics data, or customer interviews and ask you to provide them with access. If you are building a product, don't hesitate to ask about their product development experience. Was it successful? If not, what did they learn from it? Confident agencies will talk about failures and learning experiences frankly and directly.
Terrific UX and UI agencies will have a broad team skillset. Ideally, they will not employ just UX and UI designers. Instead, they will work with frontend developers, QA and test engineers, content writers, and business analysts. The design team is crucial, but its value falls if it's siloed and isolated.
And, lastly, truly great agencies will make sure you can get some face time with their leadership. They will ensure you can get on a call with the CEO, CTO, Design Lead, or anyone else from the leadership team. That shows dedication, respect, and curiosity — all these are attributes that you should get from your next agency.
Work with us?
Hopefully, this guide provided you with a good understanding of finding and selecting a good UX design agency and UI design agency. Give Point Jupiter a call or send us an email and evaluate us. Ask us hard questions about complex and challenging projects and clients. See our work and learn more about the services we offer – and let's create something valuable together. Hire a UX agency today!